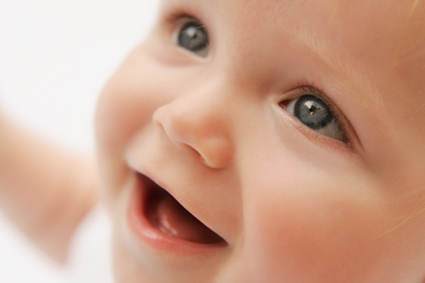 Welcome to Riverina Regional Library Baby Bounce – bringing Baby Bouncers across the region together to discuss and share experiences.
You may have participated in a Baby Bounce program at one of our participating libraries so you will be aware of the aim behind a program such as Baby Bounce.
For those of you who are asking…
Baby Bounce is an early literacy program designed to encourage carers of babies to ENJOY! LEARNING! TOGETHER!
We hope to instill in you and yours the importance of communicating with your child. The simple activities demonstrated at Baby Bounce programs at our libraries are ideas for you to expand upon and incorporate into your child's daily routine.
Through songs, rhymes and books we will be helping you to introduce your child to the rhythm and rhyme of language and, as research has proven, create a solid foundation for the development of your child's language skills and their ability to learn to read.
You are welcome at all our libraries so if Baby Bounce is not running at your closest library why not make a journey to one of our branch libraries? Libraries running regular Baby Bounce sessions include Wagga Wagga City Library and Cootamundra Library. And keep an eye on our What's on page to find more.
"The ups and downs of our voices and our pauses and points of emphasis are like music, literally, to the ears of young children, and they love music. Simple tunes also make anything easier to remember, so it's useful to read a book in exactly the same way every time, and to read the same book over and over again. The more quickly children pick up the "tune" of the words, the more they'll remember the words and the more quickly they'll have fun trying to 'read' the story themselves, with the same expression as we do" – Mem Fox
Find a quiet moment, where we can snuggle and share a book away from TV, radio or other distractions
Try to read to me at the same time each day so that it becomes part of our routine
Stories can happen at anytime, anywhere, indoors, outdoors, lying down, curled up or sitting in a chair
Keep it brief and let my interest guide you
Hold the book close enough for me to see, to touch, sniff and yes even taste
Find opportunities for me to see your facial expressions while you read too
Turn the pages slowly and let me try it
Tell me what's going on in the pictures
Change the story to make it about me and my world
Don't be afraid to make a fool of yourself. The sillier you are the more I will enjoy it. Try different voices and make animal noises
Put the books on a low shelf or in a basket so I can reach them easily when I start to crawl
Read it again! I love lots of repetition.
How to choose a book for me
When I'm really small choose a book that is sturdy like a board book so I can give it lots of love
I like books with clear and simple backgrounds
I like books with bright colours
I like repetitious books
I like books which rhythm and rhyme
I like books with simple content
I like books which have different textures for me to feel
I like books because I can share them with YOU!
When I'm a bit bigger I will like picture books with…
Only one sentence on each page
Rhyme and repetition
Pictures of objects from my own environment
Nursery rhymes and songs
Building literacy before school by Susan Hill University of SA
Hints for choosing books when I'm bigger
Only one sentence on each page
Rhyme and repetition
Pictures of objects from my own environment
Nursery rhymes and songs
Building literacy before school by Susan Hill University of SA
Language development and literacy
What are the benefits of reading and singing to your child? 
Stimulates imagination
Develops an understanding of how language works
Reinforces the value of reading
Helps children develop a joy of reading
Strengthens your relationship with your child
Gives your child a great start to education
Songs and singing help your child's brain development
Action rhymes help physical development
Action rhymes and songs assist in the development of gross and fine motor skills
Increases your child's vocabulary and gives a head start when your child learns to read
The rhythm and rhymes help your child to remember sounds and words
You are not confined to text. Talking about illustrations, interacting with the content of a book also develops early literacy skills.
It is a calming activity which makes parenting easier
And most of all it is fun for both of you
Did you know I could hear before I was born? I could actually recognise your voice and even your heart beat
Try singing, tickling, clapping, stamping, dancing round to make the book more fun
I love to hear a variety of music
You don't need to be a virtuoso YOUR voice is my favourite music
I want you to sing your favourite songs and we can share the fun of music together
when we read together ask me questions and then answer them yourself eg. "what's in that little egg?" or "Oh, it's a tiny little caterpillar"
I love to hear the sound of your voice when you talk to me and point out all the interesting things in the world around us
I can talk back too. My smiles and baby coos show how much I enjoy our talking time together
Poems, rhymes and songs will grab my attention, especially when you act out the words. Play with nursery rhymes, poems, tongue twisters and words galore to expand my vocabulary
Talk in the language you know best. It doesn't have to be English
Talking and listening to me in my own comfortable environment expands my vocabulary and gives me confidence to practice all the new words.
when we read watch me closely and let me set the pace. Let me tell you when to turn the page and how much to talk
I use different sounds and facial expressions to talk to you. Listen to me and respond in a loving way. When you respond I know you understand and value me.
Smile for me when I'm ready to play
change activities when I look away
talk to me when I smile at you
Talk to me, even though I can't understand you yet. Have conversations throughout the day during our daily routines. When you talk, use words to tell me the names of objects. Point to them and describe what is happening. By talking, we explore the world together
Take turns with me when we talk. Give me opportunities to talk back to you. I might not talk yet, but I can make faces and blow raspberries. This way I know you enjoy hearing what I have to say.
I will initate conversations soon so talk and ask questions about what interests me.
Instead of trying to draw our conversation to new topics, try and extend conversation about the topics I choose. If I show interest in a particular toy, ask me to tell you what colour it is and whether it is big or small.